This post may contain affiliate links. As an Amazon Associate, I earn from qualifying purchases.
Thank you BJ's Wholesale Club for sponsoring this post.
Shopping for yourself, your family and your pets can be a lot of work. Make it easier by using these tips to save time and money next time you shop.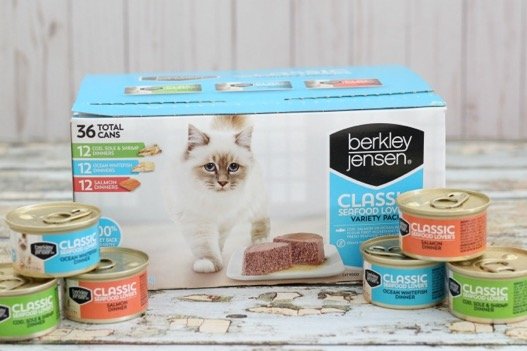 Click on the image above to shop
There was a time when I loved shopping. That was way before I became a busy mom with five million other things to do. Now there's no such thing as just running in the store to grab a gallon of milk. If the kids are in tow, that five minute trip can easily turn into 30 (and that list grows from one item to about 20). Luckily I've learned from past mistakes and have picked up a few shopping tips and tricks along the way. These tips save time and money and have helped make my life a whole lot easier.
Get Everything In One Place
This is my #1 shopping tip! I love being able to cut down on shopping trips by getting everything in need in one place.
That's why I love to shop at BJ's Wholesale Club. They have everything on my list and at great prices too! Not only can I get my groceries, toys, cleaning supplies and more, BJ's Wholesale Club is a one stop shopping destination that allows me to give my pets the very best too! Our cats are important members of our family and that's why BJ's offers a large selection of food and accessories for our furry friends at the best prices. Plus, their exclusive Berkley Jensen line of high-quality pet products gives our kitties the nutrition they need to live long, healthy lives.
Since our cats go crazy for anything with seafood, I picked up the Berkley Jensen Seafood Lover's Classic Variety Pack. These recipes have the best cuts of fresh cod, salmon or ocean whitefish as the main ingredient. They also provide key proteins and amino acids that our cats need.
I added the cat food to our cart and that's when I saw the pet beds. The Berkley Jensen 38″ Tufted Round Pet Bed looked really soft and comfy and I liked that the color was neutral enough to fit in with our decor. It's also reversible, treated with MaxGuard to reduce odor, and is machine washable too. I was sold!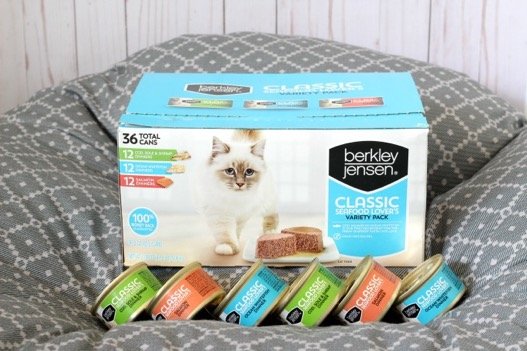 Click on the above image to shop
This bed wasn't just to spoil my cats though (not that there's anything wrong with that). I saw this as I was putting my girls to bed earlier in the week.
Amelia had taken over the doll bed and was sleeping with my youngest daughter's favorite teddy bear. As cute as this scene was, that wooden bed had to be uncomfortable. This cute kitty deserved better.
Sugar, on the other hand, loves to sleep with my 10 year old daughter. She always starts her night at the foot of the bed. Does all the cat fur give it away?
However, Ashling tells us that at some point every night, Sugar wakes up and tries to take over her pillow, waking her up in the process. She says it's both cute and annoying at the same time! These cats needed a bed they could call their own, so I knew the Berkley Jensen bed from BJ's would be perfect.
Our curious cats were very excited to see what I'd brought home from BJ's.
I opened a can of the Ocean Whitefish Dinner and it was clearly a big hit!
In the meantime, I found a spot for the new bed. I set it down and waited.
It didn't take long before I had my first customer! In fact, Amelia loved it so much, she slept in her new bed for almost half the day. I'm guessing she found it a whole lot cozier than the wooden doll bed.
Aside from getting everything you need at BJ's, there are more ways to save time and money shopping…
Shop During Work Hours
When I became a stay at home mom, I was totally shocked at how empty the stores were during the day. I'd always shopped after work and on weekends and didn't realize there were actually times when parking was easy and there were no lines to check out! Shopping early on a weekday opened up a whole new world.
Make A List
I can't count how many times I've come home from the store to discover that I've forgotten something I needed. Frustrating, right? Now I make lists, and check them twice, before I head out. That way I'm not racking my brain trying to remember everything I went to the store to buy. The cats try to help by making their own lists but I'm not exactly sure where to find dog repellent!
Try Meal Planning
When I meal plan, it makes shopping so much easier! I know at the beginning of the week what I'll be making for dinner every night and can plan to have all the ingredients on hand. No more running to the store 3-4 times a week to pick up something last minute. The more trips I make to the store, the more money I spend. Plus, who wants to spend all that time at the store anyway. Sugar even snuck onto the computer and made her own meal plan, though I still haven't figured out how she can type with those giant paws.
Leave The Kids Behind
If you can shop without the kids, do it! You'll get your shopping done much faster and you won't be tempted to give in when the kids are begging for things you don't normally buy. Shop when they're at school or when daddy's home to take care of them.
Get A $25 BJ's Gift Card Just For Joining
It's so easy to save at BJ's and I'm excited to be able to share the savings with you! Click here to join BJ's now and use my refer-a-friend link to earn a $25 BJ's gift card. Use it for anything in the store, including your pet supplies.
What tips do you have to help save time and money shopping?
I was selected for this opportunity as a member of CLEVER and the content and opinions expressed here are all my own.