This post may contain affiliate links. As an Amazon Associate, I earn from qualifying purchases.
This shop has been compensated by Collective Bias, Inc. and its advertiser. All opinions are mine alone. #PurinaMysteries #CollectiveBias
Children love their pets but having a pet means more than just playtime and snuggles. Being a pet owner also teaches children some very valuable life lessons!
When my daughters adopted their kittens, I think it may have just been the best day of their lives (both for my girls and their kittens). It's no mystery why they fell in love with these furry little creatures..just look at them!
This is Keira and Amelia (Amelia is the furry one).
Here's Ashling and Sugar.
These little kitties stole our hearts and even after a year, my girls just can't get enough of them. They are inseparable and when the girls went to visit grandma and grandpa, they made me promise to let them Skype with the cats.
While my girls love Sugar and Amelia because they're just so adorable, I have another reason to love them. Since we've gotten these cats, Ashling and Keira have learned some very important life lessons without even realizing it. These are just a few…
Unconditional Love
Having a pet teaches children about unconditional love. Even when Sugar knocked my daughter's keyboard to the floor, shattering it, she showed understanding and compassion because she knew the cat hadn't done on purpose. She could have easily gotten mad but the unconditional love she has far surpassed the disappointment of a broken keyboard.
Patience
It takes patience to have a pet. My youngest has had to learn patience because even though she would snuggle with Amelia 24/7, Amelia's not necessarily on board for that. She's learned to let the cat come to her and to be patient when she just needs a little "kitty time".
Handling Loss
Before we had Sugar and Amelia, there was Daisy and Priscilla. They lived to be 16 years old, a pretty good life for a cat, but then they both died within a year of each other. It was hard for the girls and we definitely shed a few tears, but it also helped them to understand that loss is a natural part of life.
Responsibility
Being a pet owner also teaches children a sense of responsibility. They learn to take care of their pets by giving them food and water, playing with them and giving them lots of love. Older kids can take dogs for a walk or clean the kitty litter (I'm patiently waiting for mine to reach this stage).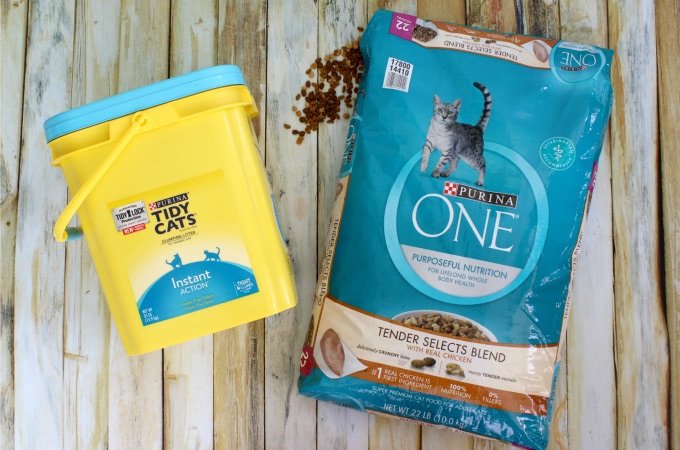 The girls also remind me when we're running low on food and litter and love going with me to PetSmart. I think it's because they're secretly hoping to talk me into buying new toys for the cats (it usually works).
We're stocking up because during the month of June, PetSmart is giving shoppers a $10 PetSmart gift card when they buy $40 worth of participation Purina products and upload the receipts by 7/9/17. The great part is that there's no limit so we can shop and collect as many gift cards as we want. Maybe I'll give in and use some of the money I save to buy those cat toys.
We love to feed our cats Purina ONE because there's such a great variety to choose from. When we first adopted Sugar and Amelia, we fed them the Purina ONE Healthy Kitten Formula. Now that they're bigger, we switch it up with different flavors. The fact that the cats come running every time tells me that it must be good, at least if you're a cat.
Kitty litter is always at the top of our shopping list too. If you're a cat owner, you already know that litter is something you never want to run out of. I use Purina® TIDY CATS® Litter for two main reasons…it's not as dusty as other litters and it hides the odors really well. It's a clumping litter, making it easy to clean up too.
If you bring the kids with you to PetSmart, don't expect it to be a quick trip! There are just way too many cool things to see. The first thing the girls always want to check out are the guinea pigs and hamsters. Keira even thinks the rats are cute but I don't think they'd get along well with the cats.
Next it was on to the fish! There's an entire wall of fish to look at and the girls love it.
It was only a matter of time before they found the cat toys…
and shortly after, the begging began. How can I possibly say no to these cute faces?!
Keira also decided we needed a new scratching post. Our cats love the ones made out of cardboard and if you have trouble getting your cats to use a regular scratching post, you should definitely try these. It was the only thing that worked for us and now our cats use them all the time.
We checked out and headed home. It didn't take long for our curious cats to find all the goodies we'd brought them.
I think we have two more happy customers!
Do you have pets? What life lessons have they taught you or your children?