30 Amazingly Easy Pinwheel Recipes
These Pinwheel Recipes are some of our favorite fun, creative and delicious party appetizers. Easy to make and totally customizable, they're always a favorite and will be the first thing to disappear at your next gathering!
Easy Pinwheel Recipes
Whether you call them pinwheels or roll-ups, these little spirals of goodness are the ultimate party finger-food. They're so irresistible that no matter how many you make, they always seem to disappear within minutes. Serve these tasty bites on game day, for holiday parties, or just as a tasty snack or light lunch.
One of the things that make pinwheel recipes perfect for entertaining is there are so many delicious ways you can prepare them. Most use tortillas to roll up a variety of meats and other flavorful fillings. You can use regular flour tortillas, whole wheat tortillas or the flavored ones like spinach or garden herb and sun-dried tomato tortillas.
Pinwheel FAQ's
Before we dive into the recipes, here are some of the most commonly asked questions about pinwheel roll-ups.
How do I Store Pinwheel Sandwiches?
Pinwheels usually include dairy, meat and sometimes other perishable ingredients. They can sit out for a couple of hours at a party, but after that, you'll need to keep them stored in the fridge in an airtight container or covered with plastic wrap.
If you're making them with salmon or other types of seafood, you'll want to put those back in the fridge after about an hour.
Can You Freeze Pinwheels?
Most pinwheels will freeze well for up to a couple of months, but that largely depends on the type filling you use. Mayonnaise and sour cream have a tendency to break down when frozen and then thawed, it's best not to freeze those. You'll have better luck with those that have a cream cheese filling, as they typically freeze pretty well.
Can I Make Pinwheels in Advance?
Yes, you can make most pinwheels up to 24 hours in advance and it's a great way to save a little time on party day. Don't make them more than a day in advance if you're using a loose creamy filling. It can cause the roll-ups to become soggy.
Party Pinwheel Roll-up Recipes
Cream Cheese Italian Pinwheels
Veggie Pinwheels
Pimento Cheese Pinwheel Sandwiches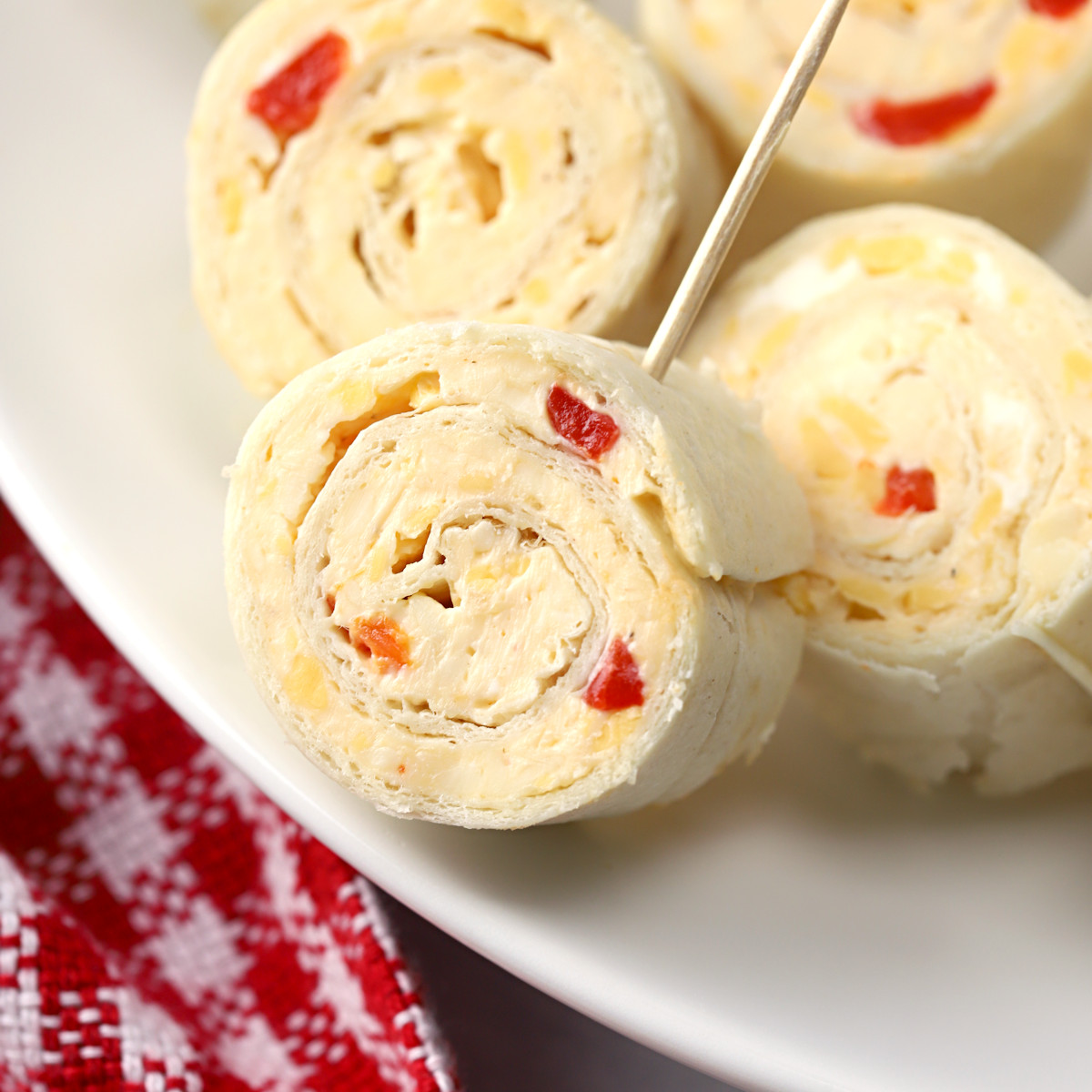 Pimento cheese pinwheel sandwiches are the perfect party appetizer! Creamy pimento cheese is rolled up in flour tortillas and sliced into pinwheels for a fun, bite size treat.
Get Recipe Here
Turkey Pesto Pinwheel Sandwiches
Vegan Veggie Rainbow Wraps
Smoked Turkey Pinwheels Recipe
Salami Pinwheels
Bacon, Lettuce, and Tomato Pinwheels
Ham and Cheese Pinwheels Recipe
Vegan Mexican Tortilla Roll Ups
Zesty Italian Pinwheels Recipe
Healthy Veggie Pinwheels
Festive Cream Cheese Pinwheels
Buffalo Chicken Pinwheels
Tuna Pinwheels
Easy Cheeseburger Pinwheels
Cranberry Pecan Cream Cheese Pinwheels
Salami Dill Pickle Roll Ups
Bacon Spinach Roll Ups
Smoked Salmon Pinwheels
Asparagus and Smoked Salmon Pinwheels
Vegan Southwest Roll Ups
Cucumber and Cream Cheese Sandwich Rolls
Horseradish Roast Beef Pinwheels
Chicken Enchilada Tortilla Roll-Ups (Tortilla Pinwheels)
Chicken Cranberry Salad Pinwheel Sandwiches
Cranberry Turkey Pinwheels
Baked Spiral "Hawaiian Roll" Slider Roll-ups
Cream Cheese Olive Tortilla Roll Ups
Ranch Cream Cheese Ham Roll Ups
Want More Tasty Party Appetizer Recipes